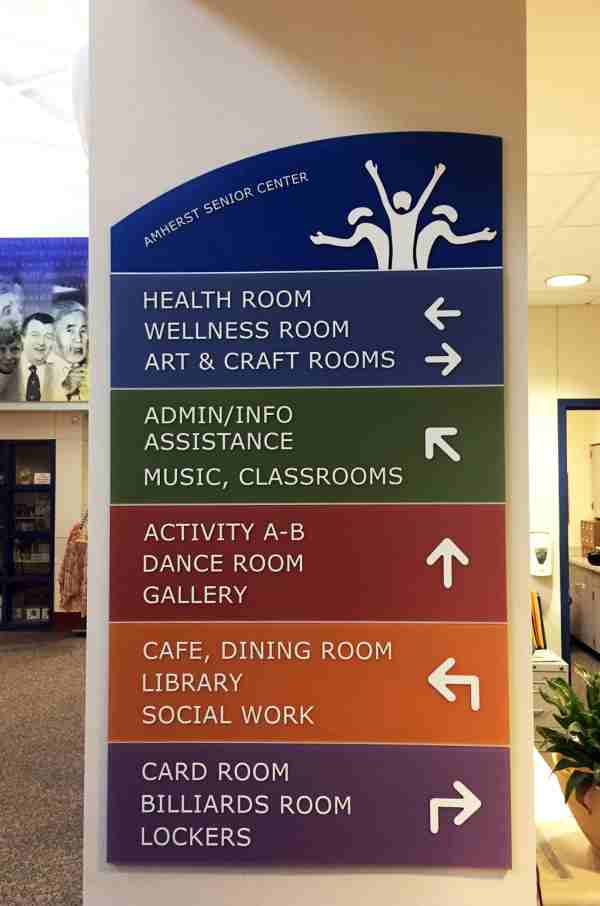 Cut out style
Mount St. Mary's Hospital
Meet Compliance & Enhance Your Image With ADA, Interior, Wayfinding and Directory Signage.
ADA Signs   View our work
At Cooper Sign Co., we can make ADA compliance easy and affordable for you. All of our ADA signs come complete with translations into Grade II Braille and are designed to meet the explicit specifications of the Americans With Disabilities Act, the ADA Accessibility Guidelines, and the American National Standards Institute. We offer a variety of options to choose from for your ADA signs, including:
Sandcarved
Photo polymer
Tactile lettering
Custom colors and designs
Engraving
Etched
We also offer warning/caution signage, as well as hazard signage.
We pride ourselves on being able to offer a wide variety of styles to help meet your project specific requirements. We can also provide you with inserts for your project if you require them. We work with you to help get you the signs that you need on your project. Also, for general contractors, we work with you to get submittals created for approval prior to supplying the signage. We help you ensure that all the details are gathered to help guard against any mistakes being made.
Want to set your company apart from the rest? Ask us how we can help create a custom ADA design for your company and help put you on the cutting edge for your company interior needs.
Corporate Interior Signs  View our work
At Cooper Sign Co., we can help you add elegance and appeal to your office with corporate interior signage, including:
Engraved wall and door signs
Engraved door and desk nameplates
Engraved badges, table tents, and machinery identification tags
Corporate ID and logos
Interior vinyl graphics
Directional signs
Decorative signs
Interior sign systems
Frosted glass signs
Signs are available with any wording and in any size.
Directories  View our work
Need a directory on your project or for your office? We have a wide variety of interior and exterior directories that we can offer. We can design and create custom interior directories as well as standard lobby directories. If you can let us know your needs, we will work with you to determine the product that fits best with your project. A few styles we offer include:
Push in letter
Changeable name strips
Tack board
Custom title bars
Lockable
Exterior waterproof
Kiosk style
Custom directories are also available in a wide variety of colors and materials.
Message Us
Get In touch below. Ask Any Question or Request a Quote
Call Us
(716) 297-2340 
(800) 835-2340 
"Cooper signs worked with us on a new sign for our lobby and they were fantastic. They worked through several sizes and changes and were able to recommend the perfect fit. The sign was ready about 2 weeks earlier than quoted. The price was well within budget, and their installation directions were so easy. I would highly recommend them."
"Knowledgeable, friendly employees always there for you!"
Office Location
7350 Porter Road P.O. Box 172 Niagara Falls, NY 14304
Phone
1-716-297-2340 
1-800-835-2340